ALAN LICHT & THE SHAKING RAY LEVIS


THE HAPPY as ah! AUTUMN LARK (3'N-1) SHOW

Featuring:
1. Alan Licht with the Shaking Ray Levis
2. Robot Sweet Robot
3. Dark Inside the Sun

FRIDAY OCTOBER 10TH, 2003
@ Lamar's Restaurant
1020 E MLK BLVD Chattanooga, TN

doors opened @ 9pm 1st show began "around 9:30pm"
admission was $5

Alan Licht & the Shaking Ray Levis performed at
Atlanta's EYEDRUM on October 4, 2003.

Forcedexposure.com on Alan Licht: Alan Licht is many things. Guitar god, musicologist, critic and musical collaborator par excellence, he has been making a mark in all of these spheres and more since the eighties ground to a close. First stretching his wings in the pop cocoon that was Love Child, Alan has subsequently put in major dues-paying stints with the likes of Rudolph Grey and his Blue Humans, as well as performing with players as diverse as Loren Mazzacane Connors, Arthur Lee and the Shadow Ring.

For more information about the show, you might have contacted EYEDRUM.


DEREK BAILEY & SRL @ TONIC IN NYC


The Shaking Ray Levis appeared with Derek Bailey at NYC's TONIC on April 12, 2003, in the third of a series of performances by the British guitarist and accompanying artists (he performed with Ikue Mori and Cyro Baptista on the 10th and 11th, respectively). The Shaking Ray Levis have also performed with Derek Bailey on numerous other occasions; the new Shaking Ray Records release Live at Lamar's documents one such performance.

April 2003's performance was reviewed by The Squid's Ear, "a NYC music magazine covering improvisational, avant, and experimental music from around the world." According to the review, Bailey's performance with the Shaking Ray Levis was "the most overtly ensemble playing of the three nights." The review, which was published online, can be found here, in the Squid's Ear archives.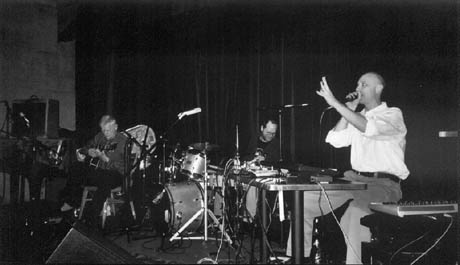 MAYOR OF THE TENNESSEE RIVER

David Greenberger in Mayor of the Tennessee River at Chattanooga Theatre Centre's (CTC) Circle Theater.
June 6-8, 2003.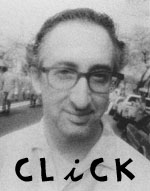 In Mayor of the Tennessee River, Greenberger performed colorful monologues based upon actual interviews with Hamilton County Seniors. This spoken word performance was set to original music composed by the Shaking Ray Levis.

In May 2001, National Public Radio correspondent David Greenberger spent two weeks in Chattanooga interviewing senior residents at area nursing homes and collecting their stories for Duplex Planet, his ongoing publication project which deals with aging and the issues of the elderly. In the artist's own words: "Everyone is aging and everyone must face their own decline and death. As a culture, we're desperately short of meaningful and real examples of other people going through these experiences. The Duplex Planet is designed to provide some resonant characters who are in decline, but all still very much alive."

This premiere performance of Mayor of the Tennessee River explored the shared, human inevitability of aging through the specific stories of Hamilton County's seniors whose viewpoints are rarely represented in such a dynamic context. Recently released on CD, the original music of the Shaking Ray Levis (Dennis Palmer and Bob Stagner joined by Kenny Palmer and Frank Pahl of Only a Mother, Immigrant Suns) will add a powerful resonance to the emotional core of the characters presented. Contact the Shaking Ray Levi Society for information on purchasing the CD.
| | | |
| --- | --- | --- |
| "The tales of the Duplex are modern-day versions of Chaucer's reports from the road to Canterbury; they resonate with a wry humor and a startling insight." | | "If stand-up sociologist David Greenberger had his way, every school would post a sign reading, 'When You Get Old Everything Will Be Different.'" |
| | - New York Times | - Rolling Stone |
Please contact the CTC box office @ 267-8534 for tickets and reservations. Mayor of the Tennessee River is funded by a grant from Allied Arts of Greater Chattanooga and Tennessee Arts Commission.
(You could have) Met the author!!!
David Greenberger read selections from The Duplex Planet and discussed various recent works and projects.
@ Barnes & Noble
Thursday, June 5