CD RELEASE JUBILEE
Featuring "!!!LIVE!!!" Spirit-filled DANG! JOYUS MUSIC of SHAKING RAY LEVIS, SOUL MATES, SUGAR DADDIES, GIRL FRIENDS
THURSDAY, DECEMBER 30
9:00 PM @ LAMAR'S (1020 MLK BLVD.)
(Doors open at 8:00)
$5 admission, $2 for SRLS members
!!!ADMISSION CAN BE APPLIED TOWARD THE PURCHASE OF AN SRR CD!!!
Celebrating new & recent SRR CD releases
(from the SRLS PRECIOUS-IMPROV ARCHIVE):
!!!BRAND NEW RELEASE!!!
THE GOSPEL RECORD (Reference Edition)
Derek Bailey, Amy Denio & Dennis Palmer
& LIVE AT LAMAR'S
Derek Bailey & the Shaking Ray Levi's Duo
THE "HIT POWER" SHOW
"A DANG SONIC COMMUNION of LIFE, LIBERTY & LOVE"
FEATURING:
The Shaking Ray Levis
Heroes are Horses
The Watchlist
FRIDAY, NOVEMBER 5
9:00 PM at LAMAR'S (1020 ML KING BLVD.)
$5 admission, $4 for SRLS members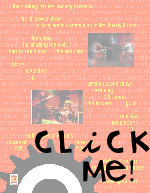 The Watchlist:
Ben Kennedy – cello and violin
Erik Hinds – H'arpeggione and quartertone electric guitar
Brent Bagwell – saxophones and clarinet
Capable of operating at sub-whisper volumes or generating intense heat, The Watchlist is a chamber trio made up of three improvising musicians from a variety of backgrounds. Their first meeting, in what was to have been a one-off gig, was such that they have been moved to continue the collaboration.
Ben Kennedy is a member of the Charlotte-based ensemble Pyramid (www.sidewalkexplosion.com), where he lends his distinctive sound to the expansive avant-rock tapestry.
Erik Hinds of Athens, Georgia is active as a composer, performer, and promoter of a wide range of music. He plays quartertone electric guitar and the H'arpeggione, an upright guitar with 12 sympathetic strings. Erik focuses on the raw sound of his strings, unprocessed by electronics, to create a fragile sense of intimacy. His style blends folk, heavy metal, and sacred musics from around the world into a completely distinct voice. Erik has played with countless improvisers and performs regularly around the country. His upcoming albums are 'Appalachian Trance Metal' and a song by song (piece by piece?) solo rendition of Slayer's 'Reign In Blood.' Erik lives in a solar powered house with his wife (and dog) and runs Solponticello Records. Contact Erik Hinds at info@solponticello.com
Brent Bagwell is a member of the Brooklyn-based free jazz trio The Eastern Seaboard (www.theeasternseaboard.com). Their newest CD, Nonfiction, was released on the Black Saint label (www.blacksaint.com) in the summer of 2004.
LOCAL YOKELS 2004:
(Dedicated to the memory of Charlie Rymer)
SATURDAY, OCTOBER 23
9:00 PM @ THE CHATTANOOGA REGIONAL HISTORY MUSEUM
(Pavillion space - across from Lupi's on Broad Street)
$5 admission, $4 for SRLS members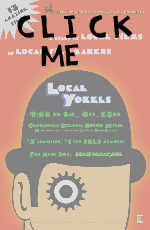 OVERVIEW:
In 2002, a small group of Chattanooga filmmakers felt the need to find a public venue for their work, so they banded together and organized a do-it-themselves screening of four films made in this city. With the help of Free Film Club (www.freefilmclub.com), a loosely-organized microcinema dedicated to semi-regular screenings of rare, foreign, independent, and avant-garde films—as well as to supporting the work of local artists—these four filmmakers were able to find an audience for their work. Since that first screening, LOCAL YOKELS has become a "quasi-annual" event, taking place roughly every 10-18 months. Until very recently, with the arrival of the 1st Annual Firefly Film Festival, LOCAL YOKELS was the only organized program in which locally made films were presented to the public. Now in its third year, LOCAL YOKELS continues to serve as a democratizing force in the growing local cinematic community, making it clear that films don't necessarily have to be made in Hollywood or with the help of multi-million-dollar budgets: the cinema is rapidly becoming an art form that can be practiced by anyone who has the desire to create and a few bucks to spend on a digital video camera. In 2004, LOCAL YOKELS became a collaborative project of Free Film Club and the Shaking Ray Levi Society (www.shakingray.com), a collective-run non-profit that supports, produces and presents diverse genres of music, film and performance art through festivals, recordings and the Internet.

SELECTED FILMS*, 2004 (by director's name):
*This list has been compiled pending further submissions and may be amended before the screening, though all work listed here will definitely be screened.

DIRT - The Persistence of Uncle Jimmy's Memory (0:35) [Première!]
One of two filmmakers presenting work in this program who have chosen to remain anonymous, Dirt presents a visual representation of what might be going on in a dog's dreams. This short-short film was submitted by Possum--the other anonymous filmmaker presenting in this program—who states: "The Persistence of Uncle Jimmy's Memory is a production by an anonymous freelance ne'er-do-well and amateur snapshotter friend of Possum. Any resemblance to persons living or dead is coincidental except where it is intentional. If you need to know which, contact Dirt via Possum at possum@catt.com. The Persistence of Uncle Jimmy's Memory is included by permission. All rights reserved."

MATT GREENWELL – Spectacle (6:23) [premièred at the 1st Annual Firefly Film Festival] Matt Greenwell is a graphic design professor in the Department of Art at UT Chattanooga. "Spectacle" was created as an attempt to somehow quantify the impact of media on post-consumer culture-to document what Guy Debord recognized as the artificial "spectacle" of our contemporary lives.

TYLER GRISHAM & CHRIS KORNMAN – Anecdote of a Jar (6:00) [premièred at the 2004 Covenant College Film Festival, subsequently screened at the 1st Annual Firefly Film Festival] Tyler Grisham is currently a UTC student and Chris Kornman is a graduate of Covenant College; the two have been working on film projects together for three years. Anecdote is their first co-production and is based on a poem by Wallace Stevens. It explores the idea of mankind's interaction with nature and the environment.

THE MICROMOVIE COLLECTIVE - 3 Micromovies: #5, #8, & #10 (roughly 5 min each = 15 min) The MICROMOVIE Project, dreamt up by Chattanooga filmmakers Jim Burer and Jarrod Whaley, is an ongoing attempt to bring together established filmmakers and neophytes alike in a fun, relaxed setting on a monthly basis. On the second Saturday of every month, Whaley and Burer meet with whoever is interested in making a five-minute short film in the span of a single day. The participants brainstorm an idea for their film, and then hit the streets of Chattanooga to make their idea a reality. Open to the public, MICROMOVIES are an excellent learning and networking opportunity for filmmakers of all levels, and also a great way to get the community involved in the small but growing film scene in Chattanooga. The three films included in this program were made in this fashion.

MARK NORTHERN – Grace—Double Digital (0:18) [Première!] Mark Northern is Business Development Manager for Next Knowledge Software. His career path includes stints as Copy/Co-Creative Director at The Sullivan Company, Communications Director for the Electric Transit Vehicle Institute (ETVI) and Editor of Chattanooga Life & Leisure magazine. He is an advocate of creativity in all forms and a long-time evangelist for Atomic Films, the Shaking Ray Levi Society and anything else that, quote: "kicks the status quo in the nether regions." He says, quite simply: "Grace - Double Digital was a test of the digital video capabilities of my Fuji FinePix 3800. It's essentially a shaky zoom into the screen of my Dell Inspiron 5150 that does a little drop-off to the bottom left after tightening in on my daughter's right eye."

POSSUM - The Pecker Suite (3:30) [Première!] A series of super-short films (at durations ranging between 3 and 25 seconds each) shot by a local filmmaker who wishes to remain anonymous (and edited by an anonymous technician) The Pecker Suite traces the banalities of daily life as it is lived by chickens. Yes—chickens. Through its cunning use of double-entendre, static camera angles, humor, and image-association, The Pecker Suite draws parallels between the humdrum, bizarre lives of farm fowl and the humdrum, bizarre lives of modern human beings. Possum says: "These videos are the copyrighted property of Possum. No animals were harmed or mistreated before, during, or after filming 'cause that ain't right. (By animals I mean chickens, but not worms, scorpions, or other insects. Chickens eat that stuff.) For further information about dustbaths, chickens, etc., email Possum at possum@catt.com. All rights reserved."

POSSUM – Tail: 12 Tales (3:30) [Première!] Another of Possum's patented series of excursions into the bizarre and amusing lives of animals, Tail: 12 Tales makes use of many of the methods and themes of The Pecker Suite, but this time making use of a cast of dogs. Oddly, Possum chose to divulge the dog's names, while keeping his own name a secret: these cinematically inclined canines are known as "Uncle Jimmy" and "Stella." Possum says:
"These videos are the copyrighted property of Possum. No animals were harmed or mistreated before, during, or after filming 'cause that ain't right. (By animals I mean dogs.) For further information about dogs, etc., email Possum at possum@catt.com. All rights reserved."

CHARLIE RYMER – Wake Up Now (15:50) [Première!] Friends of the Rymer family—the SRLS not being the least of which—were saddened to learn of Charlie's death in an auto accident this summer. SRLS can think of no more fitting tribute to Charlie's memory than to screen his short film, Wake Up Now, which is a lyrical and moving meditation on the irony of mankind's violent nature in peaceful and tranquil world. Rymer's very personal and subjective use of the camera explores the juxtapositions of private versus public, natural versus humanmade, and peaceful versus warlike, thus pondering the most essential questions of what it means to be a human being.

JEFF SHAFFER – Battle Brains (4:24) [Première!] This experimental short makes use of varied imagery and imaginative sound design (says the filmmaker: "The sounds were done with a rewired stereo console using AM bandwaves, broken records, and a lot of near electrocution) to create an abstract and unsettling portrait of a mind at war with itself.

JEFF SHAFFER - Beer, Cats, and Rock & Roll (16:27) [Première!]
WARNING: contains language that some may find objectionable.
A surreal and disturbing documentary probing into the life of Mr. Shaffer's rather unsavory alcoholic and inexplicably-Elvis-impersonating neighbor (one John Hutchings), Beer, Cats, and Rock & Roll pushes the boundaries between the real and the nightmarish. Mr. Hutchings utters obscenities as if they were a language in their own right, and swills beer until he can barely see the electronic poker machine in front of him. The effect is at once disconcerting and humorous. One doesn't know whether to pity or to loathe John Hutchings by the end of this film, but Shaffer laudably demonstrates this lowly character's human qualities by contrasting them with his many repulsive traits.

SHAKING RAY LEVI SOCIETY FILM WORKSHOP – (Title to be determined) [Première!]
The result of a filmmaking workshop to be facilitated by Chattanooga filmmakers and SRLS Film Committee members Jarrod Whaley and Jim Burer, this film will be made entirely by members of the general public who wish to learn more about the filmmaking process. The film will be based upon an animated short by famed Czech filmmaker Jan Svankmajer; participants in the workshop will be called upon to adapt Svankmajer's trademark stop-motion animation into a live-action short film, and the LOCAL YOKELS audience will be called upon to supply the filmmakers with feedback in the form of a questionnaire. This is truly democratic cinema.

JARROD WHALEY & KELLY MOORE – Comme Ci, Comme Ça (8:34) [Première!] WARNING: contains language that some may find objectionable
Chattanooga filmmaker Jarrod Whaley teamed up with University of Houston (TX) graduate student Kelly Moore to produce this absurdist narrative short that looks into the ways in which we are alone even when we are with others. When the protagonist (Moore) discovers that she has run out of the resources that her profession requires, she begins placing random telephone calls in an effort to find someone who can replenish her supplies. She eventually enlists the help of a wisecracking drunkard who is more interested in her Pabst Blue Ribbon than he is in helping her in any way whatsoever. Shot in a wide array of video formats—both digital and analog—Comme Ci, Comme Ça provides a rare glimpse at the comedic side of Whaley's cinematic tendencies.

JARROD WHALEY - Rémy Brick-Head In Sour Sweetjuice (12:00) [Première!] ANIMATED. WARNING: contains language that some may find objectionable. Whaley's first foray into the world of drawing-based animation premières right here at LOCAL YOKELS. With its hand-drawn aesthetic and desert-dry humor, Rémy Brick-Head In Sour Sweetjuice brings to life a very dreamlike day in the life of Rémy Brick-head. Rémy, a henpecked husband with an unfortunate cranial protuberance, is blissfully watching television one afternoon when his rather large and shrewish wife, Patapouf, sends him to the store to pick up a gallon of her favorite beverage: Sour Sweetjuice. After a slight mishap involving a severed hand and a glass convenience-store cooler, Rémy finally finds a chance to assert himself. See what happens at LOCAL YOKELS.

MICROCINEMA INVITATIONAL 2004:

OCTOBER 16, 2004 @ Lamar's
9:00 PM. $5 admission, $4 for SRLS members

An evening of screenings of films from around the country. Both film and digital video formats will be represented. Each filmmaker presenting a film is this program was invited to take part based on viewings of the works in question and/or of prior work.

Filmmaking isn't just for the Hollywood elites any more--it is increasingly a democratized medium through which practically anyone with an idea and a few bucks for a camera can produce a film. SRLS takes pride in its efforts to promote the democratization of the cinematic media through its presentation of works made locally, and through workshops like the one discussed above. With the MICROCINEMA INVITATIONAL program, composed of short films in styles ranging from comedy to meditative to experimental, SRLS celebrates the D.I.Y. spirit manifest in the work of filmmakers from around the country.

DIGITAL VIDEO:

Alejandro Adams – Meditations on Motherhood: Vol. 4
SUMMARY: Meditations on Motherhood is just that—a meditation on the relationship between a mother and her daughter. The story is told without the use of dialogue, using pictorial elements and sound design to link narrative nodes together.
BIO: Alejandro Adams is a filmmaker and digital media theorist living in Mountain View, California. He is an essayist and general editor for braintrustDV.com, a web site that focuses on examining and analyzing the aesthetic and theoretical implications of digital video as a medium distinct from film. His work can be viewed at: zolita.digital

Sammy Samuelson – Canary
SUMMARY: Canary is a satiric look at the state of the current healthcare "industry" in the United States. When a man receives a new liver only to treat it poorly, his healthcare providers dispatch an "organ repossession specialist."
BIO: Sammy Samuelson is a filmmaker and web designer hailing from Boise, Idaho.

Joe Swanberg – Mikey
SUMMARY: A lyrical and beautifully shot meditation on the nature of youth and friendship. A very naturalistic and honest snapshot of a day in the life of a few young men passing the hours on their skateboards and wasting time out in the garage.
BIO: Joe Swanberg is a Chicago, IL filmmaker and film critic (www.filmbrats.com). He is currently wrapping up his first feature film, Kissing on the Mouth (www.kissingonthemouth.com), also shot on digital video.

FILM:

Matthew Martin – Sapience Dirge (super 8mm) PREMIERE!!
SUMMARY: Out from his window he looks, as the sounds of what is to come are heard shuffling and scraping their way down the street, and in his mind the song plays on. Sapience Dirge is the story of one man dealing with matters of fate, death and a possible loss of sanity. Adapted from a short story by Sam Shepard.
BIO: Matthew Martin, a former resident of Chattanooga, now makes films in Nashville. Sapience Dirge is his second short film. Read about his work at: Ape Drape Films

Brian Cagle – King Claude (16mm)
SUMMARY: King Claude is the story of a father's uneven affections for his two sons, one of whom is fed steak while the other is sent to his room to feed upon an unappetizing platter of cocktail weenies. When the underloved young boy concocts a ploy to increase his visibility in the familial setting through the use of reverse psychology, his needs are further frustrated by the invisibility of his intentions.
BIO: Another former resident of Chattanooga, Brian Cagle is currently working on a Master of Fine Arts degree in filmmaking at Chicago's Northwestern University.

SATURDAY, OCTOBER 16 @ Barking Legs Theater
10:00 AM - 4:00 PM
Registration fee: $5

In the second week of the our Fall Series, the SRLS offers a special Filmmaking Workshop for anyone interested in learning about the behind-the-scenes filmmaking process. Whether your interests lie in being on screen, or remaining behind the camera, this workshop will allow you to play a significant role in the production of a short film, to be publicly screened shortly after the workshop.

The film created during the workshop will be based upon the themes, narrative structure and other qualities of an animated short by Czech filmmaker Jan Svankmajer. Participants will watch and discuss the short and, with the help of workshop facilitators, create a loose "script" upon which the workshop film will be based. With guidance by the facilitators, some participants will operate filming equipment, while others will serve as the cast.

Editing will take place after the conclusion of the workshop, and the finished product will be screened at the SRLS Local Yokels Film Festival on October 23. In addition to having a public screening of the workshop film, participants will recieve feedback from the Local Yokels audience, in the form of a questionnaire following the screening.

For more information, contact Jarrod Whaley here.




Friends Forever
with Hale Zukas and The Tracers
Saturday Oct 2, at Ziggy's 9 pm

$5 admission (support the band!),
$4 for SRLS members
"FRIENDS FOREVER is a Denver, Colorado band that cannot be contained on a stage and will play synthmo-drum/bass/whatever whammy thwack attack from WITHIN their van outside your precious club."
The subject of a very entertaining 2001 documentary film by filmmaker Ben Wolfinsohn, Friends Forever is a pair of guys who criss-cross the country playing shows out of the back of their beat-up VW bus. With the help of a gas generator, thousands of watts of "juice" power their amps, lights, and christmas-light-bedecked costumes. Thus bring they the rock unto thy parking lot. And yes, this will be going down at the parking lot at Ziggy's!
The music itself is a raucous (and rock-us!) mixture of no-wave improvisation and tight rockbandsmanship, the performance a mixture of punk-rock rebellion and stadium-band pyrotechnics.
THE SRLS AND CoPAC PRESENT:
Sue Garner & Angel Dean
Saturday, July 31 2004 @ Barking Legs Theater (1307 Dodds Avenue) 8:00 PM.
Admission:
General Public: $5
SRLS members: $4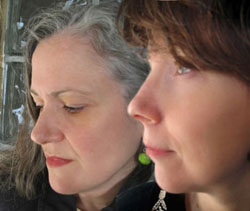 HERE'S WHAT THE CHICAGO READER HAD TO SAY:

Back in the 80s, Angel Dean, Sue Garner, and Amy Rigby lent their gorgeous vocal harmonies to a New York group called the Last Roundup. They put out a single album of homespun country, Twister (Rounder, 1986), and then disbanded. Garner went on to play in relatively experimental rock outfits like Fish & Roses and Run On, though she and Rigby also crafted delicate, clever pop in the Shams; Dean worked sporadically with country-rock bands like the Zephyrs and Shackwacky before moving to Providence, Rhode Island, with her husband, horror writer Jonathan Thomas. A few years ago she started visiting Garner in New York, bringing fistfuls of original tunes with lyrics penned by Thomas; the new Pot Liquor (Diesel Only) is the fruit of their renewed collaboration. The opener, "In the Shell," is reminiscent of Last Roundup's rustic honky-tonk, but from there the album's mood grows bleaker, as if the women had left Nashville for the mountains of West Virginia. Garner sticks close to Dean's lead, creating vocal intervals more like the wonderfully strident harmonies of the Carter Family than the silky blend she got with Rigby in the Shams. Though a number of guest players add simpatico instrumental touches to the album's backdrop of acoustic strumming--haunting slide guitar from Jeremy Hogg on "Dreams," gauzy reeds from Doug Wieselman on "Wider World"--the focus never strays from the natural bond between the two singers. They're friends for whom singing together is just an extension of conversation.

--PETER MARGASAK, Chicago Reader

Vermont musicians Matt Valentine and Erika Elder (The MV & EE Medicine Show)
with Chattanooga's very own Shaking Ray Levis
and Atlanta's Pony Law
at Lamar's (1020 M.L.King Blvd)
on Thursday, July 22 at 9pm.
for $4 (SRLS members) or $5 (non-members)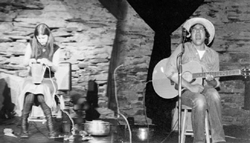 About Matt Valentine and Erika Elder:
Emerging from the forests of Vermont, Matt Valentine and Erika Elder create a sound that has been described as "…a mystic, opiated journey through the sounds of the American Civil War, Hindu ceremonies, Scottish folklore, and rural Indonesia." (Contemporary Magazine) Falling under the growing 'Free Folk' genre, Valentine and Elder utilize traditional elements in inventive ways, such that their sound can be simultaneously described as folk, psychedelic, tribal and delicate. Six-string guitars and percussion variously combine with flute, harmonium and tablas to create a uniquely layered sound. Valentine and Elder recently performed at the Brattleboro Free Folk Festival in Vermont along with other 'folk revivalists' Sunburned Hand of the Man, Thurston Moore, Charalambides, and Son of Earth.
Valentine was originally the brains and guts behind NY's Tower Recordings, a sprawling collective of outside musicians whose Folk Scene record defined a moment in time as beautifully as John Cale's Inside The Dream Syndicate, and The Incredible String Band's The Hangman's Beautiful Daughter. Since then he has restricted his broadcasts to the occasional hand assembled epistle smuggled out via his and Elder's own Child Of Microtones imprint, while working alongside underground luminaries like PG Six, Samara Lubelski, Tom Carter, Heather Leigh Murray, Willie 'Gutbucket' Lane, Tim Barnes, Dean Roberts and Dredd Foole.
PROJEXORCISM with an encore screening of Pieces, a short film by local filmmaker Jarrod Whaley
9:00 PM Thursday, July 8 @ LAMAR'S
1020 M.L. King Blvd. (Small cover charge, TBA)
PROJEXORCISM: Hickory, NC's own cinematic demonbusters will "projexorcise" the ballroom at Lamar's, and your eyeballs will never see evil again. Ed Cooper, one of the brains behind the show, describes his work thusly: "There are four 16mm projectors dangling from a light pole, controlled by a sound-actuated lighting controller and a live human. The audio from the projectors is fed thru an array of samplers and manipulated in real time. The projections pass thru a series of silver CD-Rs which act as mirrors and posess diffractive properties. The film itself changes from show to show - the content of the film is mostly educational, pushing up against a PG rating at times. It is an ambient-fueled electronica interactive art installation. At times I will walk away from the setup and let the projectors flicker, sizzle & shake on their own as the sound-actuation circuitry gets warmed up and the film spools on."
Come watch the frames flicker and listen to the sounds as they whirrrr!!!
OPENING THE SHOW:
Pieces: Just before PROJEXORCISM fires up its click-clacking projexorcizers, Chattanooga filmmaker Jarrod Whaley will present an encore screening of his new 28-minute black-and-white short film. If you missed the "Pieces of Precious Improv" event back in March, here's your chance to check this short out. Or come see it again! Pieces tells the story of a rather odd gathering of three friends who don't know why they're friends anymore. They spend their time playing a bizarre parlor game involving five dowel rods and a pair of dice. The musical score consists of some superb new music by Dennis Palmer and long-time Michigan collaborator, Frank Pahl. Running time is just under thirty minutes. See the film's trailer here. See some well-written and thoughtful criticism on some of Whaley's work from Alejandro Adams of BRAINTRUSTdv here.
LA PARTIE (sic): A FUN FILM FORUM
6:00PM TUESDAY, JUNE 8 @ PISA PIZZA (551 RIVER STREET)
Join the Shaking Ray Levi Society's film committee as we discuss how to build a cinematic culture here in Chattanooga. Network with fellow filmmakers & film advocates. Find out how to get involved.

Recent developments in the field of film and video have made that discipline accessible to more people than ever before, and we'd like to see that trend continue. In 2004, the SRLS will begin working with the community to build a strong and vibrant cinematically-minded culture right here in our own back yard. We'd like to see more films being made—and then seen—in this neck of the woods. We want to work together with this community, and we'd also like to hear your ideas (and share a few of our own). Please plan to attend this informal gathering and help us begin the dialogue. You'll meet some like-minded filmmakers, film advocates, and cine-citizens of all kinds while you're at it.
Pieces of Precious Improv: A Multi-media experience featuring Jarrod Whaley's PIECES and the Shaking Ray Levis with Phillip Johnston
MARCH 27th @ 9:00P.M.
at the Chattanooga Regional History Museum's (CRHM) Pavilion Space (401 Broad Street).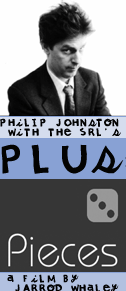 The Shaking Ray Levi Society, dedicated to presenting experimental film and music in Chattanooga, will present PIECES, the new film from local filmmaker Jarrod Whaley at 9:30. Immediately following the premiere, soprano saxophonist and composer Phillip Johnston, accompanied by Chattanooga's improv gurus, the Shaking Ray Levis, will perform.

Phillip Johnston, a largely self-taught soprano saxophonist and composer, has self-described his musical style as stemming from the swing/big band jazz tradition. In addition to performing with numerous experimental musicians like John Zorn and Tom Cora, he has composed original music for several films (including Paul Mazursky's Faithful and Phillip Haas' Music of Chance), television (Bravo, MTV, VH1), advertisements (Ford, Blue Cross/Blue Shield), and Radio (incidental music for NPR's Fresh Air). He will perform solo, as well as in duos and trios with the Shaking Ray Levis (Dennis Palmer and Bob Stagner).

Local filmmaker Jarrod Whaley will present PIECES, his sixth short film. PIECES tells the story of a rather odd gathering of three friends who don't know why they're friends anymore. They spend their time playing a bizarre parlor game involving five dowel rods and a pair of dice. The musical score consists of some superb new music by Dennis Palmer and long-time Michigan collaborator, Frank Pahl. Running time is just under thirty minutes. See the film's trailer here. See some well-written and thoughtful criticism on some of Whaley's work from Alejandro Adams of BRAINTRUSTdv here.

What the press has to say about Phillip Johnston:

" Phillip Johnston could rightly be classified as the H.G. Wells of the jazz world."
-Ashley Kahn, Rolling Stone Record Guide

"...perhaps the hippest of late, Phillip Johnston is a modern jazzster with the smarts to shape daring music in commercially palatable ways. Potent and
frolicsome, able to conjure an assortment of emotions and references, FLOOD AT THE ANT FARM will surely enhance the leader's rep as one of modern music's more versatile writers.
-Jim Macnie, Billboard

"...swerves through territory where you can dimly discern signposts erected by Charles Mingus, Carla Bley, Gil Evans, the Willem Breuker Kollektief, Sun Ra, Rova, and New Orleans brass bands. The disciplined lunacy makes Big Trouble big fun."
-Derk Richardson, San Francisco Bay Guardian

"...playful irony, pastiche, nutty compositions with hair-raising arrangements, and loving jabs at the jazz canon... Jazz Passengers and Lounge Lizards take heed: you'll be in Big Trouble when you try to match whack for whack with Phillip Johnston's superior band."
- John Corbett, Downbeat