The Art Gallery of Knoxville presents
SHAKING RAY LEVIS
(Erik Hinds, Dennis Palmer & Bob Stagner)
8PM Friday December 2, 2005
317 Gay Street (across the street from REGAS)
Knoxville, Tennessee
For more information, please see theartgalleryofknoxville.com
Telesthesia
a film by Jarrod Whaley, with live, improvised musical accompaniment by Dennis Palmer, Bob Stagner, and Athens, GA improvisor Erik Hinds.
Friday, Sept. 16 2005 at Eyedrum (suite 8, 290 MLK Jr. Dr. SE
Atl, GA) 8:00 PM. Admission - $6.
Saturday, May 28 on the Main Stage at the Chattanooga Theatre Centre. 8:00 PM. SRLS member admission- $6, non-members- $8.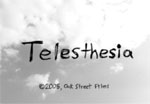 Telesthesia is a feature-length silent film, more in the tradition of underground/avant-garde film than that of the Silent Cinema of the early twentieth century. Making use of no sound or intertitles whatsoever, the film is an experiment in purely visual storytelling: two human beings forge a close bond over a very great distance, and the mental space they come to inhabit slowly evolves into physical space, bringing them together across the miles between them.
Jarrod Whaley is a Chattanooga, TN filmmaker who has, to this point, worked primarily with digital video. He has made eight short films, one animated short, and is in the midst of producing a suite of five experimental shorts. Many of his films have been presented locally in Chattanooga, in keeping with Whaley's desire to further the idea that localized film communities are quite likely the wave of the cinematic future. Whaley was also a co-organizer/facilitator for the Micromovie Project, is the curator of Free Film Club, and serves as Secretary for the Shaking Ray Levi Society. He currently works as a freelance filmmaker, web designer and videographer, as well as teaching video production workshops for agencies such as the federally funded GEAR UP Program (which is housed at the University of Tennessee at Chattanooga), the Shaking Ray Levi Society, and UTC's Division of Continuing Education.
Erik Hinds, based in Athens, Georgia where he performs with a number of genre-pushing groups, has borrowed from a plethora of music styles to forge his vocabulary: folk, country, jazz, even heavy metal. He plays the H'arpeggione, a string instrument built by maker Fred Carlson. A cross between a guitar, cello, and bass, it has six strings with quartertone frets and 12 sympathetic strings. It covers a wide range and opens up the field of microtonal playing, giving Hinds' music a personal color. Hinds also runs the label Solponticello and is a convinced environmentalist -- he designed his own solar-powered house. His first solo album, Cerberus, came out in 2001.
This project is funded in part by an Arts Build Communities grant from Allied Arts of Greater Chattanooga and the Tennessee Arts Commission. The film is a co-production of the Shaking Ray Levi Society and Oak Street Films.
The Shaking Ray Levi Society Presents TWO June Events: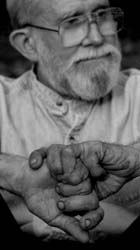 1) The premiere screening of He Who Is Blessed by Chris Barrett, at the Chattanooga Theatre Centre on Thursday, June 2 at 8:30 PM in the Studio, free admission.

The SRLS helped to produce this film, and we are very happy to be able to bring it here to a Chattanooga audience. This documentary film is already being picked up by PBS stations around the country, so don't miss this opportunity to meet Brother Benedict (the subject of the film) himself, and to see this fascinating story unfold on a big screen. And again, it's free! For more information about this film, click here.

2) THE EVENS (featuring Ian McKaye and Amy Farina) June 12th @ Barking Legs Theater, w/ Dennis Palmer

$5.00 admission, $4.00 for SRLS members. Doors open @ 7:30

Trevor Dunn and Shelley Burgon
w/ Magicicada
LIVE AT LAMAR'S (1020 MLK Blvd.) Wednesday March 9, at 8:30pm. Admission is $8 for general admission, $5 for SRLS members.
Trevor Dunn and Shelley Burgon form a unique, totally acoustic duo of bass and harp, and have been a part of the downtown music scene in New York City since 2001.Their repertoire consists of both strictly notated compositions as well as purely improvised music---a repertoire that walks the line between chamber music and extended technique. Utilizing instruments that are typically buried by thick orchestration, Burgon and Dunn make the most of their distinct setting by exploring subtle and sometimes barely audible properties of sound. Their dynamic range is as vast as their sonic palette. Between haunting, minor melodies one may hear bass strings played with mallets and harp strings pummeled with a metal rod.
In the Summer of 2004 the duo toured the North East U.S playing venues from Portland, ME to Hampton, VA. Later, in the Fall, they toured the West Coast appearing in Los Angeles, San Francisco, Vancouver, BC and the Oregon Festival of American Music in Eugene. In December the duo performed world premiers of pieces from John Zorn's Masada: Book Two in NYC. They have plans to release a recording in 2005.
What Critics are saying:
"...bassist Trevor Dunn and harpist Shelley Burgon will draw you into their intimate and fascinating sonic landscapes. They make the most of their distinct combination of instruments..."
---Oregon Festival Of American Music, Eugene, OR

" The pairing of harpist Shelley Burgon and bassist Trevor Dunn is an acoustical experiment to be appreciated. ... the pair use unconventional tools in their search for the subtlest and most interesting vibrations.
---The Oregonian, 15 October 2004
About the Musicians:
SHELLEY BURGON: Originally from San Francisco Shelley relocated to New York in 2002. Since her move Shelley has performed with John Zorn (Music for films by Joseph Cornell),a quartet with Chris Speed, Ikue Mori and Skuli Sverrisson, Tin Hat Trio, Marina Rosenfeld and Raz Mesanai. In November 2003 she was a part of the Ravished Limbs Improvised Music Festival where she shared the stage with Jim Black and Okkyung Lee. Shelley received her MFA from Mills College where she studied and performed with with Alvin Curran, Chris Brown, Maggie Payne, Fred Frith, Pauline Oliveros, Maryanne Amacher, William Winant, Jean Jerome along with many others. Shelley has developed a unique solo project processing her harp using the computer software Supercollider. Exploiting the wide dynamic and harmonic range of her instrument, her digital processing comes to life in quadrophonic spatialization. She recently performed solo at Pauline Oliveros' Deep Listening Space in Kingston, NY.
TREVOR DUNN: Known for his involvement in avant-rock bands Mr. Bungle and Fantomas, has recently been playing with John Zorn's Electric Masada, David Krakauer's Klezmer Madness, Susie Ibarra, Marc Ribot and Jenny Scheinman. He can be heard on over forty recordings including his own Trio-Convulsant whose new CD "Sister Phanom Owl Fish" was released on Ipecac Recordings in July, 2004. The trio completed a six week tour opening for The Melvins in the Fall of 2004. Mr. Dunn received a BA in music from Humboldt State, lived in San Francisco for eight years where he performed extensively with Ben Goldberg and John Schott, then moved to Brooklyn in 2000. In 2001 he was commissioned by the Elaine Kaufman Cultural Center to write a solo bass piece for Jon Deak. Mr. Deak Performed "Depaysemant" for prepared bass later that year at Merkin Hall, Lincoln Center. Trevor is currently writing an article for Bass Guitar magazine.
MAGICICADA: Hailing from Atlanta, Georgia, Christopher White performs under the name Magicicada. Inspired by the sounds of the "wonderfully strange and dysfunctional electrical wiring" of a 150 year old school house he once inhabited, Magicicada's live shows incorporate the sounds of acoustic instruments & found objects, including -but not limited to- voice, melodica, harmonium, sine wave generators, cassette decks for the blind, chord organ, guitar, saxophone, bells, whistles, sheet metal, buckets, and toy samplers.