the shaking ray levi society and flying fingers productions present:
THE PLASTIC PEOPLE OF THE UNIVERSE
at BARKING LEGS THEATER (1307 Dodds Ave.)
THURSDAY, SEPT. 20, 8:00 PM - $10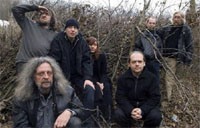 Simply put, THE PLASTIC PEOPLE OF THE UNIVERSE are living legends, a rare music group with an indelible spot in the turbulent history of Czechoslovakia. The band emerged almost four decades ago with bold, uncompromising music, and their incarceration by the oppressive Communist regime served as
direct inspiration for future president Václav Havel and others to write the Charter 77, a demand for human rights.
In August of 1968, five Warsaw Pact nation armies totaling several hundred thousand troops invaded Czechoslovakia, putting an abrupt end to the promise of the Prague Spring political liberalization which began earlier that year. One month after the invasion, the Plastic People of the Universe was
formed. Akin to other '60s underground and counterculture visionaries, the group was influenced by the Velvet Underground, Captain Beefheart, the Fugs, and Frank Zappa, whose track "Plastic People" gave the band its name.
Their music is compelling, strange, and sometimes primitive, with a violin providing an Eastern European flavor and wild, vibrant sax solos, and poet and philosopher Egon Bondy, whose writings were banned by the government, supplied the group with lyrics. Today, with a seven-member lineup, they carry their nonconformist spirit with vigor and intensity—no limp rock dinosaurs
here—and sound just as vital and stirring as ever.
This show at Chattanooga's Barking Legs Theater is one of just a handful of shows that the band will perform in the States this year.
The Village Voice:
"…beyond their cultural impact, the Plastics were a very great
band."
Critic Richie Unterberger:
"…the Plastic People did more than almost any other rock band to change the course of world history."
FRANK PAHL
Part of the LATE BLOOMERS 3 performance series at the
CHATTANOOGA THEATRE CENTRE (400 RIVER ST.)
FRIDAY, JULY 20, 11:00 PM - $5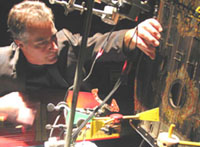 The utterly unique and overwhelmingly creative FRANK PAHL wants to do it all, or so it seems. And so far, he's made a pretty good dent on that "all," being an award-winning multi-instrumentalist, composer, instrument inventor, toy/electronics tinker, and improviser who has created music for film, art installations, dance productions, musicals, cabarets, and other theatre performances. This is in addition to his acclaimed solo albums and material with the avant-folk outfit ONLY A MOTHER, not to mention his fascinating automated sound sculptures and other work as a visual artist...
Pahl channels his wartime outrage with humor and off-center song-weaving on his new album, Songs of War and Peace, and his performance in Chattanooga will draw from that. Along with searing, pointed originals such as "No Brainers" and "Rotten Corpse," the album features twisted variations of the national anthem in the form of "Scarred Mangled Spanner" and "Far Tangled Manner" plus Woody Guthrie and Phil Ochs covers to pay homage to the protest song tradition.
Some of the many, many instruments that Frank Pahl plays: buzzsaw ukulele, washing machine, banjo, prepared barrel piano, toy trumpet and trombone, Bulgarian flute, peacock harp, shrutti box, tou marimba, virtual pet: gerbil, euphonium, African harp, clarinet, autoglock, harmonium, tiple, automatic zither, cello, binary doorbell quintet...
Metro Times Detroit on In Cahoots:
...a playing field where Ukulele Ike, Charles Ives and Don Van Vliet meet in an avant-garde adjunct to the soundworld of Taking Tiger Mountain or Bone Machine...a humorously dark funhouse of musical creativity.
All Music Guide on Remove the Cork:
This is the kind of music you don't get to hear often, even in avant-garde circles. It allies genius and cuteness!
SIR RICHARD BISHOP
(SUN CITY GIRLS) WITH SUOMI AND THE NEW BINKLEY BROTHERS
FRIDAY, JUNE 1, 9:00 PM
JJ'S BOHEMIA (231 MLK BLVD.), CHATTANOOGA, TN
$8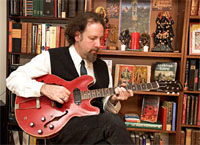 SIR RICHARD BISHOP, best known as a member of the incomparable SUN CITY GIRLS, combines his improv and compositional wizardry with an astounding technical mastery of
the guitar and diverse influences (Spanish gypsy and flamenco, Southeast Asian, North African, to name a few.) His lightning-fast picking and mind-bending melodies will make sure no jaws are left undropped.

Pitchfork review of Improvika: "…he moves with such frantic dexterity that it's difficult to imagine someone's mind operating that quickly, let alone their fingers. Rather than mere technical proficiency, however, it's Bishop's uncanny ability to translate and synthesize the many and varied tongues of his antecedents that makes Improvika so intoxicating." — Matthew Murphy
QUOTES ABOUT THE SUN CITY GIRLS:
"The Sun City Girls are America's premier underground band. No qualifiers such as 'arguably' or 'possibly' are necessary." — Derek Monypeny, Popwatch
"If there's one band in the world it would be impossible to form a 'tribute'/cover band for, here it is. The Sun City Girls' repertoire includes psychedelic pop fuzz, sardonic protest folk, creepy musique concrète, blindingly loud noise, bizarre free jazz, gorgeous Spanish lullabies, vibrating insect drones, spacetrucking jams, paranoid monologues, dusty cowboy ballads, crusty lounge music, perfectly rendered trad jazz, science-fiction sound effects, prank phone call recordings, and anthemic punk rock—not to mention myriad musical styles associated with the Far East, North Africa, South America, the Middle East, Haiti, and outer space." — Mike McGonigal, Seattle Weekly
A.S.A.P. WINGS CD RELEASE PARTY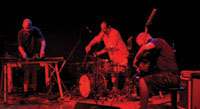 THURSDAY, FEB. 22
7:00 PM
@ JJ'S BOHEMIAN (231 MLK BLVD.)
FREE admission
With a live performance by Dennis Palmer, Bob Stagner, & Killick
ALSO:
from the SRLS video archives:
DEREK BAILEY at Paradise Gardens 1986 (soon to be released on Incus DVD)
& "THE JARROD WHALEY PROGRAMME": a new documentary about SRLS & 1986's FAH-SAH-LAH-CAH-LOH Festival
SAY X-RAY FEELINGS' LIVE DJs:
Kastle Hair Hezekiah & Wadsworth Longfellow