Shaking Ray Levis
Sandia
December 21
Flying Monkey Arts Center


The Shaking Ray Levi Society & CreateHere Present:
COL. BRUCE HAMPTON & ROGER ALAN WADE
August 18 (Monday, 7 PM) at the Loose Cannon Gallery (1800 Rossville Ave.). FREE SHOW!
COL. BRUCE HAMPTON is the legendary musician, surrealist, improv-rock trailblazer, and actor who has led the Hampton Grease Band and the Aquarium Rescue Unit.
ROGER ALAN WADE has written songs for Johnny Cash and Hank Williams Jr., and he goes from comical to woeful with his "raw," deep, and unforgettable voice.

String Trek, Shaking Ray Levis, Paul Thomas, Echo Canyon, & Killick
Monday, August 4, 8:00 PM
ciné • athens, ga • advance tickets • $6
| | |
| --- | --- |
| | String Trek is the touring name of the duo, LaDonna Smith and Misha Feigin. >From Alabama, LaDonna is a "fire bucket" violist, violinist, and first generation pioneer on the American avant-garde improvisation front. She has also been the keeper/editor/producer of The Improvisor, a collective music journal of free improvisation now on the web at www.the-improvisor.com. Moscow born Misha Feigin brings the elements of poetry, vocals, the old-world romance and dynamic energy to the collaboration, improvising on guitar and balalaika. |
| | The Shaking Ray Levis is an ongoing collaboration of musicians with a common interest in improvisation. The project was conceived and led by the Chattanooga-based team of Dennis J. Palmer and Bob Stagner. They use storytelling, synthesizers, samplers and percussion to achieve their distinctive sound. They are the first American group to have recorded for Incus Records, the record label of British free improvisational guitarist Derek Bailey. Additionally, they have performed and recorded with John Zorn, David Greenberger, Fred Frith, Min Tanaka, Amy Denio, and Derek Bailey, as well as with many other critically acclaimed artists. |
| | Paul Thomas is locally recognized as the former proprietor of the performance space/gallery/book store/coffee shop The X-Ray Café, and has performed with artists ranging from Allen Ginsberg to Sweet Teeth to experimental turntablist Maria Chavez. The duo of Paul Thomas and percussionist/electronic musician Chris Ray returns to Ciné with perhaps another sneak peek at Paul's video series Portraits of the New Subconscious. |
| | Echo Canyon, rumored to have taken their name from a particular Simpsons episode, consists of three busy musicians collaborating in free-range improv style. Guitarist Craig Lieske (of Garbage Island, Diet Rock Star) is joined by percussionist Jim Wilson (also known as Diego Catalan, of Mother Jackson) and Chuck Bradburn (of Southern Bitch) on upright bass. |
| | Killick, of Athens, Georgia, is active as a composer, performer, and promoter of a wide range of music. He plays quartertone electric guitar and the H'arpeggione, an upright acoustic instrument with 12 sympathetic strings. Killick focuses on the raw sound of his strings in all their microtonal glory; his style blends primitive folk, heavy metal, and sacred musics from around the world into a distinct voice. He has played with countless improvisers and performs regularly around the country. Killick runs Solponticello Records and is the fellow who put out a solo acoustic H'arpeggione version of Slayer's Reign In Blood. |

Duck Baker & The Shaking Ray Levis
Saturday, July 12, 9:00 PM
JJ's Bohemia
231 MLK Blvd, Chattanooga, TN, 37403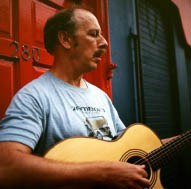 DUCK BAKER is one of the most highly regarded fingerstyle guitarists of his generation and has been praised by guitar legends such as Chet Atkins, Leo Kottke, and Charlie Byrd. His repertoire spans the entire history of jazz—from ragtime through swing to modern masters like Thelonious Monk to free improvisation, and he's also devoted to traditional American forms like blues, gospel, and Appalachian music. Baker will play a rare stateside show as a soloist and also as part of an improvising trio with the Shaking Ray Levis on July 12 (Sat, 9 PM) at JJ's Bohemia.

A Man Named Pearl

Saturday, June 28




5 PM: Topiary demonstration with Pearl Fryar




6:30 PM: Film screening


This award-winning documentary about the topiary artist Pearl Fryar, known for his astounding botanical creations. This intriguing, upbeat, and inspiring film was co-produced by the SRLS, and the AEC kicks off its 2008 Back Row Film Series with a special screening at the TN Aquarium on June 28 (Sat) starting at 5 PM with a topiary demonstration by Pearl Fryar himself. The film will be shown at 6:30 PM, followed by a discussion with Fryar at 7:45 PM. $5 for AEC or Aquarium members, $10 for non-members. "There's always gonna be obstacles. The thing is, you don't let those obstacles determine where you go." - Pearl Fryar

The Brothers Unconnected
Saturday, June 28
8:30 PM

The Brothers Unconnected are Alan and Richard Bishop paying tribute to SUN CITY GIRLS and bandmate CHARLES GOCHER who succumbed to cancer last year. The evening will include a 40-minute film of Gocher's video works followed by two acoustic sets from Alan and Richard. Reverence will never sound so irreverent, and the Bishops will be true to the unpredictable, confrontational, eclectic, and bizarre legacy of Sun City Girls on June 28 (Sat, 8:30 PM) at Barking Legs Theater.

The Shaking Ray Levi Society Presents:
WHOFEST
featuring

Saturday, May 24th (1:00-6:00PM) &
Sunday, May 25 (1:00 - 6:00PM)
Renaissance Park, Chattanooga, TN
FREE!
WHOFEST is the best-known folk/visionary/outsider art festival in the area, and this year, the SRLS hand-picked six varied musical acts to join the celebration. It takes place at Renaissance Park on Chattanooga's north shore (directions), and admission is free! On May 24 (Sat., 1-6 PM), hear songs of war and peace from FRANK PAHL (from Ann Arbor) with THE SHAKING RAY LEVIS, SANDIA (experimental prog rock), and SWEET GEORGIA SOUND (Dixieland jazz). On May 25 (Sun., 1-6 PM), catch LAND CAMERA (power pop-rock), THE KOFI MAWUKO TRIO (Ghanaian music), and ROGER ALAN WADE (humorous honky tonk).
The Electro-Acoustic Cupcake Festival
featuring
LADONNA SMITH AND MISHA FEIGIN
GOOD NOISE BAD NOISE
DUET FOR THEREMIN AND LAP STEEL
MONTANA SKIES
Saturday, March 29th @ 8 pm
JJ's Bohemia (231 MLK Blvd.), Chattanooga, TN
$8.00
LaDonna Smith is a veteran improviser and visual artist whose work spans three decades. The Birmingham, AL native plays the viola and violin in a completely unique fashion that employs classical and extended techniques, and she has toured internationally and has performed at every major improv festival in North America.

"A virtuoso violinist, teacher, and co-founder of The Improvisor ("the international journal of free improvisation"), she is the image of feminine empowerment, the female criminal in pursuit of the ecstatic, potent, subversive and transcendent." - Kelly Burnette, Perfect Sound Forever

Born and raised in Moscow, Misha Feigin is known as one of Russia's premiere guitarists. After immigrating to the United States in 1990, he's continued to build up a reputation of being a masterful improviser with a palette of various ethnic idioms and styles, a compelling storyteller, and an award-winning poet. He's performed at the Kennedy Center and the WOMAD World Music Festival and was featured on American Public Radio's Mountain Stage show.

Good Noise Bad Noise are a loose collective of improvising musicians, sound artists and video artists based in South Cumbria and Sheffield, UK. They play a mixture of electro-acoustic music and drone based free improvisation, mixing processed field recordings on laptops with live violin and live visuals.

"Good Noise Bad Noise are sensational at surrounding the listener with all these various odds and ends, ranging from Pandora's Box chaos to an entrancing industrial sonance" – EXP/AM review

Duet for Theremin and Lap Steel is a collaboration between Scott Burland and Frank Schultz of Atlanta, Georgia, creating a combination of sounds from two non-fixed-pitch instruments in an improv environment with a disregard for traditional styles. Their rich textures, swooning collages, and hypnotic pulses intend to drench the listener like a warm bath in the aural abyss.

"I love this music!" – Rhys Chatham, legendary avant-garde composer and musician

The husband/wife duo of Montana Skies seamlessly mix classical and rock music, with nimble
fingerstyle and flamenco guitar playing from Jonathan Adams and fiery cello (both acoustic and six-string electric) revelries from Jennifer Adams.

"[Montana Skies] is a new ensemble with a tremendous passion for the music they bring to their
audience." – Fingerstyle Magazine
The SHAKING RAY LEVIS (with Amanda Cagle, Davey Williams, & The Red Okra King)
GOOD NOISE BAD NOISE
DUET FOR THEREMIN AND LAP STEEL
28 Mar 2008, 09:00 PM
EYEDRUM - 290 MLK Jr. Dr. SE, Suite 8, Atlanta, Georgia 30312
Cost : $7
THE SHAKING RAY LEVIS unleash the SRL 4TET with special guests multi-instrumentalist extraordinaire AMANDA CAGLE, veteran guitar improviser DAVEY WILLIAMS, and THE RED OKRA KING serving up their ol'-timey southern-fried avant-garde with a lineup never witnessed before! With GOOD NOISE BAD NOISE and DUET FOR THEREMIN AND LAP STEEL.