CoPAC and the Shaking Ray Levi Society present:

Fred Lonberg-Holm's
Lightbox Orchestra

Monday, February 8, 2016, 8 pm
Barking Legs Theater
1307 Dodds Ave
Chattanooga, TN 37404
$10 advance/door

Named "a top cellist in creative music" by Allmusic, Fred Lonberg-Holm is the hardest working musician in Chicago, who can effortlessly navigate between the worlds of classical music, jazz, rock, pop, country and free improvisation. He's a bandleader (Valentine Trio, Lightbox Orchestra, Fred Lonberg-Holm Trio), a member of acclaimed, challenging groups like Vox Arcana, Ballister and Ken Vandermark's Vandermark 5 and a collaborator with legendary jazz giants Joe McPhee, Peter Brötzmann and Anthony Braxton. Lonberg-Holm is also a session musician who has contributed to hundreds of releases, including

Yankee Hotel Foxtrot

by Wilco, and releases by Superchunk, U.S. Maple, Smog, Freakwater, Ryley Walker, Califone, Jim O'Rourke and countless others.

Lonberg-Holm developed his idea for the Lightbox Orchestra as a way to solve certain problems that arise when merging improvisational playing into compositions. As the conductor of the Lightbox Orchestra, he leads an ensemble of performers by holding up a card with a picture or word (for example, the word "SLAM" or a drawing of a cocktail) and turning on one or more lights, each of which corresponds to a different performer. If the player's light is on, the musician must play according to his or her own interpretation of the card. This way, in real-time, Lonberg-Holm can adjust the performance to strengthen it in a more immediate way, by determining if a certain passage needs to be continued in its context.

"The Lightbox grew out of a desire to get more flexible with material, but it came from a compositional point of view" - Fred Lonberg-Holm

The February 8 show at Barking Legs Theater will feature two sets:
a solo performance by Lonberg-Holm, followed by

a performance by the Lightbox Orchestra comprised of ten local and regional improvising musicians and dancers.

---
CoPAC and the Shaking Ray Levi Society present:

Edgewood Saxophone Trio
Buffalo Princess

Thursday, February 11, 2016, 7:30 pm
Barking Legs Theater
1307 Dodds Ave
Chattanooga, TN 37404
$10 advance/door

Atlanta's

Edgewood Saxophone Trio

, under the leadership of alto saxophonist Jeff Crompton (also of Three Way Mirror and formerly of the 4th Ward Afro-Klezmer Orchestra), has earned unanimous praise as one of the region's best and most challenging jazz outfits. Crompton is joined by Ben Davis (tenor sax) and Bill Nittler (baritone sax) for wild, off-center originals and adeptly executed improvisations, alongside occasional re-interpreted classics from jazz titans including Ornette Coleman and Steve Lacy. The trio's debut album,

Snake Nation

, has earned considerable praise, making Doug DeLoach's (Creative Loafing Atlanta) "Favorite Releases of 2014" list and Chad Radford's (Creative Loafing Atlanta) "5 Experimental Staples from Atlanta's Music Scene" list.


"The Edgewood Sax Trio is the demented notion of Jeff Crompton, whose mad saxophone skills have graced stages across the city for decades...[the group] has charted a harmonically enthralling and rhythmically swinging 12-track journey with

Snake Nation

, the group's debut CD." - Doug DeLoach, Creative Loafing
"One of Atlanta's jazz treasures...[they] have been on fire during recent performances." - Omar Khalid, Creative Loafing
"...a brassy romp from the second lines of New Orleans to the funky industrial bowels of Atlanta." - Doug DeLoach (Creative Loafing), on Snake Nation

The Chattanooga sax/guitar/bass/drums quartet Buffalo Princess performs "ambient thrash metal," confounding expectations with a potent, earth-shaking combination of twisted electric jazz and hard rock, with influences as diverse as Black Sabbath, Mahavishnu Orchestra and Sun Ra.


"There are some bands that you simply have to see live to fully appreciate. Buffalo Princess falls squarely into that category."
- Nooga.com
"It would be difficult to find a more eclectic group in Chattanooga or anywhere, with influences as disparate as Afrobeat pioneer Fela Kuti, prog-rockers King Crimson, composer Igor Stravinsky, Metallica and Joni Mitchell. Wise and skilled beyond its years—the members are barely out of their teens—Buffalo Princess has a discipline and focus only seen in the most dedicated groups, articulating a unique musical vision that's been in the works since early adolescence." - Chattanooga Pulse
---
CoPAC, the Shaking Ray Levi Society and Tiki Ray's present:

Exotic Is Everywhere, Pt. 1: Tiki/Exotica night featuring
Korla documentary

Saturday, March 12, 2016, 7:30 pm (doors 6:30 pm)


Barking Legs Theater
1307 Dodds Ave
Chattanooga, TN 37404
$8 door



Celebrating the Polynesian Pop movement better known as "Tiki" that had its heyday in mid-century North America, the new Chattanooga event series "Exotic Is Everywhere" aims to spotlight its enduring features: the invented musical genre of "exotica" from masters including Martin Denny and Les Baxter, an unmistakable visual aesthetic that drew from both Hollywood fantasy and authentic Polynesian origins, and mesmerizing tropical cocktails comprised of an assortment of Caribbean and domestic rums (and other spirits), fresh tropical juices, exotic spices, and handcrafted syrups, which were first concocted by legendary entrepreneur, adventurer, bon vivant, and pop cultural icon Don The Beachcomber.

Exotic Is Everywhere, Pt. 1 will feature screenings of the feature-length documentary Korla (Tenn. premiere) about the "Godfather of Exotica" Korla Pandit, the Tiki-influenced short video "Mortal Wound" by Rick Weaver and a curated selection of Scopitones from the Tiki era. TIKI RAY'S will unveil a new tropical drink created just for this event. The foremost Tiki expert in the region, Tim "Swanky" Glazner, will give a short presentation about Tiki culture. Glazer is the co-creator and organizer of Hukilau, the largest Tiki event in the East and was named "Best Mixologist" by Metro Pulse magazine in 2009; he writes for Tiki Magazine and is the author of Mai-Kai: History & Mystery of the Iconic Tiki Restaurant.

About Korla:
A revealing documentary about a television pioneer and a spiritual seeker, Korla relates the unlikely story of organist Korla Pandit, known as the "Godfather of Exotica." The film also offers a surprising tale of racial reinvention: the turban-wearing Korla, who successfully passed as an Indian from New Delhi, was actually born in St. Louis and grew up in Columbia, Mo., as the son of an African-American minister.

Korla covers the long arc of the musician's career, from the 1950s, when he hosted his own music show on television in LA (while never speaking a word), to his later performing years, when he developed a cult following by playing tiki bars and lounges. His many fans included Carlos Santana and fellow organist Booker T of Booker T and the MGs. Film fans may recognize Korla from an appearance (playing himself) in Tim Burton's Ed Wood. Throughout his life, Korla closely held the secret of his true identity, which wasn't revealed until after his death in 1998.




Korla - Trailer from Appleberry Pictures on Vimeo.



---

CoPAC and the Shaking Ray Levi Society present:

APUH! (New Jazz from Sweden)

Friday, March 25, 2016, 8:00 p.m.


Barking Legs Theater
1307 Dodds Ave
Chattanooga, TN 37404
$10 advance/door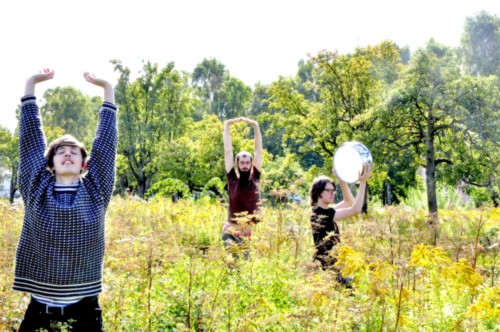 In the summer of 2011, APUH! sprung out of a longing for creativity in the moment. To take a break from carefully composed and thought-out music, Adrian Åsling Sellius and Hampus Öhman-Frölund created their own sanctuary in a dirty rehearsal space in the suburbs of Gothenburg, Sweden. Recordings were made, but it wasn't until late 2012 when the great Mats Dimming joined on double bass that the trio started to play shows.

Playing around in Sweden both as a trio and with guest musicians, APUH! were associated with everything from free jazz from the '60s to the strange and uncomfortable moods in Roy Andersson's films. The members´ backgrounds in varying genres such as rock, pop, experimental noise and klezmer create an unpredictable feel and atmosphere. Their improvisations cover topics including imaginary animals to missed funerals to science fiction novels by Philip K. Dick.

Their debut album "ETT" was released in January 2014 followed by their second release "TVÅ" in September 2015. Both are released on the Swedish label Pälsrobot Records.

"...APUH!'s music is a nod to tradition, but also a middle finger in the face of it. They do what they want and do not care about what is considered hip or unhip, right or wrong. The trio creates music on their own terms. It has a personality that is often lacking in today's jazz...APUH! definitely shakes some life into the sleeping Swedish jazz scene. A fantastic and much needed new addition. Finally..." - Sound of Music (soundofmusic.nu)




---
Riverbend and the Shaking Ray Levi Society present:


Roger Alan Wade & The Last Band with Sparkle Motion

Friday, June 17, 8:30 p.m.
Riverbend Festival, TVFCU Stage
200 Riverfront Parkway,
Chattanooga, TN 37402

Singer/Songwriter for over 35 years, Roger Alan Wade has penned songs for country legends such as Johnny Cash, Waylon Jennings, George Jones and the number one hit Country State of Mind for Hank Williams Jr. Roger Alan Wades music has been featured on the TV show Jackass which stars Wades cousin Johnny Knoxville. He has also been featured on the TV show Wildboyz. During an appearance on the Howard Stern radio show, Johnny Knoxville promoted his cousin Roger Alan Wades songs, which were favorably received by Stern and his audience and given frequent airplay thereafter. Knoxville and Wade currently host an hour-long weekly show, "Big Ass Happy Family Jubilee" (named after a Wade song), on Sirius XMs Outlaw Country channel with world wide listeners. Most recently Roger Alan Wade was named by Saving Country Music as one of Country Music's 85 greatest songwriters.

---

CoPAC and the Shaking Ray Levi Society present:

Jamison Williams Trio:
The Art of Walt Disney - Interpretations from the Disney Songbook

Sunday, June 19, 2016, 7:30 p.m.


Barking Legs Theater
1307 Dodds Ave
Chattanooga, TN 37404
$10 door

The Art of Walt Disney: Interpretations from the Disney Songbook showcases a series of experimental expositions, proudly presenting extensive musical deconstructive emphasis on a core medley spanning over 75 years of Disney songbook classics; in all its historic glory, this experimental / improvisational jazz performance will guarantee a mesmerizing night of structured musical abstraction, while pleasantly making acquaintance with the memorable abstraction of its yesterself.

Soprano saxophonist Jamison Williams specializes in experimental deconstruction and extended techniques. He currently is the primary education coordinator for the [neu]Sonics Music Initiative and founded the music publishing label Vantage Bulletin.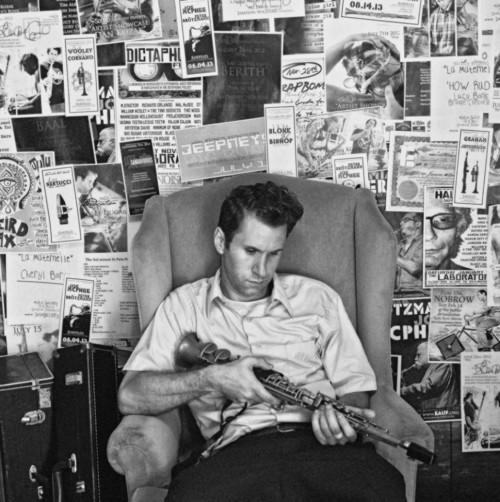 Jamison Williams Trio:
Jamison Williams (soprano saxophone)
Nate Corder (guitar)
Leo Suarez (percussion)


"Florida-based saxophone player Jamison Williams says that he 'specializes in experimental deconstructionism,' a great descriptor for his exploratory improvisations and his jagged, joyous interpretations of familiar material...He sticks with the classics – 'When You Wish Upon A Star,' 'It's A Small World,' and so on – and turns them into terrifying thrill rides of agitated chords and familiar yet warped melodies. If Banksy were as smart as he thinks he is, Williams' work would be playing on a loud loop through the artist's dark Dismaland installation." – Robert Ham, Portland Mercury
"In the tradition of players like Brötzmann and (most famously) Albert Ayler, Williams is a proponent of the extended techniques of the saxophone, spitting out harmonics, weeping 'multiphonics,' the reed equivalent of a guitarist creating feedback and noise from an amplifier and effects pedals." – Dan Brown, Folio Weekly


Facebook event page
---
CoPAC and the Shaking Ray Levi Society present:
Percussion/Performance/Provisions:
Ben Bennett
Aaron Cowan

Saturday, July 30, 2016

6:00 p.m.: Free urban foraging walk (donations accepted)
7:30 p.m.: Performances ($10 door)


Barking Legs Theater
1307 Dodds Ave
Chattanooga, TN 37404


Philadelphia-based percussionist

Ben Bennett

's boyish, unassuming appearance provides no hints to the astounding, iconoclastic creativity within, fueled by a desire to get the most varied and visceral array of sounds from the simplest of instruments. Using a wide assortment of drums, cymbals, tubes, pieces of metal and various found objects, Bennett not only strikes them but also uses friction and his own lungs to gently coax or violently wrench unusual and unfamiliar sounds from them. Bennett has quickly built up a reputation in the universe of free improv with his solo performances, collaborations with many notable improvisers, and work in the trio Wrest with saxophonist Jack Wright and bassist Evan Lipson.

Within the last two years, Bennett has gained international notoriety for his series of "Sitting and Smiling" Internet videos, which feature him sitting without moving for four-hour blocks of time, bearing an enormous grin on his face. These 221 videos (and counting) have collectively garnered over three million views from people in over 200 countries and have been the subject of articles in The Atlantic, Vice and many other media outlets. Bennett is also a performance artist, spoken-word artist, sculptor and skilled urban forager.



Ben Bennett Plays Drums from Larry Marotta on Vimeo.

Aaron Cowan

is a multi-disciplinary artist living and working in Chattanooga, TN. He received his BFA in 3D Sculpture from the University of Tennessee at Chattanooga and works primarily in the expanded field of sculpture, including video and performance. He was a founding member of the Apothecary project space and is currently Director & Curator of the Swine gallery and project space. Cowan's work exists between play and danger, self-sabotage and self-help, maturity and senescence. There is an examination of wants and needs, cycles and self-reflexivity in the context of expanded adolescence; drive, desire, violence & victory.



I Can't Stop from Helping Myself from Aaron Cowan on Vimeo.

"This is acoustic pandemonium at its most inventive" -

Tiny Mix Tapes

, on Bennett's album Spoilage

This July 30 event will feature two parts: a free urban foraging walk (6:00 pm), led by Ben Bennett, and outdoor performances starting at 7:30 pm (weather permitting) including a solo percussion set from Bennett and performance art from local artist/curator Aaron Cowan.



Facebook event page




---
The Shaking Ray Levi Society and Swine present:
Broken Glass & Pearls Before Swine:
Justice Yeldham (Australia)
Aether Jag (Providence)
Tapecanvas/Baby Magic
Sunday, August 14, 2016
4:00 p.m. sharp
Swine Gallery (at Cine-Rama)
100A W. Main St.
Chattanooga, TN 37408
$7-10 (sliding scale)


Set 1: Justice Yeldham
Set 2: Aether Jag
Set 3: Tapecanvas/Baby Magic

What's been described as "a trumpet player trapped in a two dimensional universe" is in fact the unique work of JUSTICE YELDHAM (a.k.a. Lucas "Granpa" Abela), a maverick musician with an unhealthy obsession with sheets of broken glass. In his infamous show that has astonished and bemused countless people in over 45 countries, Yeldham ecstatically purses his lips against panes of amplified glass whilst deftly employing various vocal techniques ranging from throat singing to raspberries, turning discarded shards into crude musical instruments. The results are a wild array of cacophonous noise that is oddly controlled and strangely musical. The instrument's simple, original and effective premise is a welcome respite to the technically complicated musical performances of modern times. A one of a kind act re-defining the expression 'don't try this at home' this show quite simply needs to be witnessed to be fully appreciated, let alone understood.

"The most exciting performer I have seen in the last three years – in fact, since I first saw Iggy Pop" - The Wire (Bruce Russell), on Justice Yeldham

"...brilliantly immediate performance, galvanising and alien and funny, and free of safe gestures and easy comparisons." - The Quietus, on Justice Yeldham


AETHER JAG (Providence, R.I.), a.k.a. Bridget Venuti, blends her musical inventions (home built sequencers, circuit-bent and rerouted riggings) with otherworldly vocals to coax compelling textural soundscapes.

TAPECANVAS (Noah Dobbs) is a video artist and performer whose work derives from an early interest in circuit-bent electronics and uncovering a deeper feature-set within the devices used in his practice. He creates single-channel video works, experimental installations, and has performed alongside members of the region's avant-garde and beyond, creating accompanying visual material that pulls from mostly improvised soundscapes and acts as a bridge between senses.

BABY MAGIC is the audio-based project of Jason Reevs, who makes sounds informed by his background as a visual artist and child of hillbilly folk balladeers in hope of forging a spontaneous psychic connection with the audience. This is where, with a bit of patience, entropy, and improvisation, the magic comes in.



---
CoPAC and the Shaking Ray Levi Society present:

Marshall Allen (Sun Ra Arkestra) and James Harrar's Cinema Soloriens/Soloriens Native Unity Tetrad

Saturday, September 3, 2016, 8 p.m.
Barking Legs Theater
1307 Dodds Ave
Chattanooga, TN 37404
$10 adults, $5 students advance/door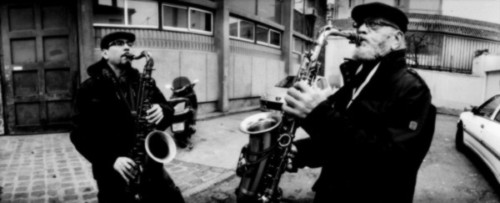 Cinema Soloriens is a dynamic multi-media performance consisting of James Harrar's unforgettable filmmaking that draws from his Native American Tiwa background steeped in ritual, meditation and nature, with a live musical rendering of soundtracks for each film. Some of the performance elements in the show include the recitation of old Tiwa folktales in English and chanting in the Tiwa dialect, which might be the first time the language has ever been spoken in Tennessee.

The musical concepts are created, directed and performed by Harrar in a quartet, featuring the acclaimed Marshall Allen of the Sun Ra Arkestra. Since the '50s, the Sun Ra Arkestra has been known around the world for being one of the most creative and influential jazz big bands to ever exist, formed by the legendary and wildly eccentric Sun Ra. Reedist/saxophonist Marshall Allen (now 92 years old) has been a key member of the Arkestra since 1958 and its bandleader for over twenty years, and he is featured on over 200 Sun Ra releases. Allen has also appeared in concert and on recordings with diverse groups such as NRBQ, Phish, Sonic Youth and Medeski, Martin & Wood.

After the performance, Allen and Harrar will conduct a community talkback to discuss their work and inspire and engage the audience.


"One of the most distinctive and original saxophonists of the postwar era" - Allmusic (Jason Ankeny) on Marshall Allen


Soloriens Native Unity Tetrad:
James Harrar: tenor sax, EVI, reeds, bulbul tarang, synth, effects & voice
Marshall Allen: alto sax, EVI, flute, keyboard & effects
Maxwell Boecker: bass & effects
Kenneth "Kenito" Murray: drums & percussion

This project is funded by the Tennessee General Assembly and administered in cooperation with the State of Tennessee, Tennessee Arts Commission (TAC) Arts Build Communities (ABC) grant program, ArtsBuild and the National Endowment for the Arts.


---
CoPAC and the Shaking Ray Levi Society present:

Jack Wright
Susan Alcorn
Zachary Darrup
Evan Lipson
Bob Stagner

Zak-Jak, Astor Piazzolla tangos on pedal steel, and so much more

Sunday, September 25, 2016, 7:30 pm
Barking Legs Theater
1307 Dodds Ave
Chattanooga, TN 37404
$10 door

Set 1: Jack Wright, Zachary Darrup, Evan Lipson
Set 2: Susan Alcorn solo
Set 3: All performers

Alto and soprano saxophonist Jack Wright is a sax titan with a career that spans five decades in the world of free improvisation. With a command of the sax that is at the top of his field with a passionate, kinetic playing style and a huge sound vocabulary, he has been called "the most indispensable musician of his generation" and "the reference par excellence for all the generations who have followed." (Jazzosphere).


In the fifties Jack Wright was a soprano choir boy and marching band saxophonist, in the early sixties a washtub bassist and college kid, in the late sixties and seventies a university lecturer in history, a revolutionist and community organizer. Since then he has been playing freely improvised saxophone, touring the US and Europe, and has been dubbed "the Johnny Appleseed of Improvised Music". He is accused of impersonating pigs, ducks and human blowhards, but lately has been remembering the proper use of the saxophone - to support the tottering universe. His roots are in Philly, where he owns a house for wayward improvisers. Jack plays with everyone but performs and tours only with the finest, which usually means the most obscure, from Europe and the US. He and his partners are among the few true believers in absolutely free, unrestrained, unstructured, unselfconscious improvisation, played at soberingly high levels of musicianship.
"In the rarefied, underground world of experimental free improvisation, saxophonist Jack Wright is king" - Washington Post

"Raw, visceral, urgent, his music demands to be heard" - The Wire, on Jack Wright
One of the world's premiere musical innovators on her instrument, Baltimore-based Susan Alcorn has taken the pedal steel guitar far beyond its traditional role in country and western swing music. Known among steel guitarists for her virtuosity and authenticity in a traditional context, Alcorn first paid her dues in Texas country & western bands. Soon she began to expand the vocabulary of her instrument through her study of modern classical music (Messiaen, Varèse, Penderecki), the deep listening of Pauline Oliveros, free jazz and world musics (Indian ragas, South American songs and gamelan orchestra).

Alcorn's pieces reveal the complexity of her instrument and her musical experience while never straying from a very direct, intense, and personal musical expression. Her latest critically acclaimed album, Soledad, explores the music of Argentine tango composer Astor Piazzolla.


"Beautiful, glassy and liquid, however far [Alcorn] strays from pulse and conventional harmony." - The Guardian

"Employing pedal steel in an experimental-music context might sound like a gimmick, but a performance by Susan Alcorn will easily silence skeptics. Alcorn's improvisations use the instrument's uniquely liquid sound to gorgeously poetic effect." - Time Out New York
Zachary Darrup
is an improvising guitarist currently living in Philadelphia. During his early teenage years in the dismal coal region of Pennsylvania a strange boy appeared like an angel, carrying a large CD booklet of wild musics of all sorts. This chance meeting at a pizza shop, plus tumultuous relationships with his home turf, school teachers, and other agents of law and rule enforcement led Zach to drop out and skip town, devoting himself to following music wherever it would take him -- somewhere else. His techniques are informed by the musical possibilities of film language, jovial mockery and mimicry of plants, animals, and audience members, thoughtful room listening, word play, colors, and culinary experiments.
Evan Lipson
has operated as a musician since adolescence—intuitively seeking the liminal zones in which intellect and instinct, history and myth, and creative and destructive force intersect. Drawn towards aberrant perspectives at an early age, his formative experiences were primarily rooted in extreme and often discordant forms of rock, improvised music, modernist composition, jazz, outsider pop, soundtracks, and noise. Lipson is currently active with Normal Love and WREST. Recently, he has written music for several films as well as a new collaboration with David Greenberger, Amanda Cagle, and Bob Stagner of the Shaking Ray Levis. Past units include Satanized, Dynamite Club, Psychotic Quartet, Femme Tops and the Weasel Walter Trio. Lipson has performed throughout North America, as well as Brazil, Taiwan and Japan. His music has been released on several imprints including SKiN GRAFT, UgEXPLODE, High Two, Public Eyesore, Badmaster, Caminante, New Atlantis and Damage Rituals.
Bob Stagner
is the only artist to have ever performed with both Dolly Parton and Derek Bailey. He is a percussionist, teacher, speaker and leader in arts advocacy for over 25 years. He co-founded the free improvisation duo, The Shaking Ray Levis, and the Shaking Ray Levi Society, an arts education organization that supports emerging artists in performance, art and film. He is the Southeast director of The Rhythmic Arts Project that provides music workshops for people with physical and mental disabilities. He has performed and recorded with a wide range of artists, including Derek Bailey, Rev. Howard Finster, Wayne White, Bob Dorough, Fred Frith, Min Tanaka, Amy Denio, Shelley Hirsch, and John Zorn.
---
CoPAC and the Shaking Ray Levi Society present:

Jeff Zagers
Russian Tsarlag
Justin Clifford Rhody
Superbody

Saturday, October 8, 2016, 8 pm
Barking Legs Theater
1307 Dodds Ave
Chattanooga, TN 37404


Performing at sundown, the magic kid Jeff Zagers smoothly navigates his full-length mazes with introverted determination, leading us by lantern through endless sectionals and segues; through the gateway points and ports of call. Sequenced surfaces are complicated by polished ravels of melody, harmony, noise, syncopation, plot-driven chord progressions, tone expression and color, electronic nerve, crime jazz scenery, mainstream minimalism, and a humble, vulnerable lyricism influenced by folk tradition and the Romantics. Sunset spectrum of sympathetic themes, ancient meditative innocence, mortal and supernatural, alienation, compassion, health and restlessness, crisp beauty and confinement.
Jeff Zagers will be performing original compositions of music along with interpretations of song writers from the past 100 years in quadrophonic sound.
Pitchfork review of Jeff Zagers' "Neighbors Knock."
Russian Tsarlag (Carlos Gonzalez) of Providence, RI has been spellbinding audiences for nearly a decade. Holding an expansive catalog of musical releases that ripens with age, Gonzalez also takes to the drawing chair releasing such hits as Slime Freak and Test Tube comics. He combines these two created worlds together as Russian Tsarlag in the flesh.

Justin Clifford Rhody will be presenting a 35mm slideshow of photographs from multiple bodies of work (accompanied by a collage of field recordings gathered in some of the locations the photos were shot in).

Superbody is an entertainment and media project comprised of Robert Gregg McCurry the 2nd and Caleb Jackson Dills based in the foothills of Northwestern Georgia USA. Their debut full-length album Hades Land was called "twelve tracks of hook-laden new-wave goodness" by the Chattanooga Pulse and "[an] intensive exploration of pop music's shadowy underbelly" by Nooga.com.


"...the Chattanooga-via-Dalton, Ga. duo Superbody lives and creates in a green-screen world with a grip on reality that's just loose enough for the sake of entertainment and going against the grain." - Chattanooga Pulse

---
The Shaking Ray Levi Society and Tenn Arts present:
Wayne-O-Rama Grand Opening

Saturday, November 19, 2016, 2-7 pm
Wayne-O-Rama
1800 Rossville Ave., #108
Chattanooga, TN 37408
Free (donations accepted)


This yearlong installation by 4-time Emmy Award-winning artist Wayne White will astound and amaze as guests experience a Chattanooga history funhouse. Sponsored by See Rock City, Inc. with support from the Benwood Foundation, the Footprint Foundation, Lyndhurst Foundation and the McKenzie Foundation, these larger-than-life puppets and installations depict Lookout Mountain, Chief Dragging Canoe, Bessie Smith, Chattanooga broadcasting legend Bob Brandy and a host of notable Chattanooga figures.

The Grand Opening celebration will include a ribbon-cutting, the presentation of a joint City of Chattanooga and Hamilton County proclamation declaring the day "Wayne White Day of Art and Education," and remarks by public officials, corporate sponsors and Wayne White. This opening event is free and open to the public at the Tenn Arts studio at 1800 Rossville Avenue, #108, and following the grand opening, Wayne-O-Rama will be open between 11 AM and 6 PM Wednesday through Sunday. The Shaking Ray Levi Society will host events, concerts, workshops, student field trips and special creative experiences on-site through September, 2017.

The celebrated artist Wayne White — who has won four Emmy awards (3 were for his art direction on Pee-Wee's Playhouse) and is the subject of the acclaimed 2012 documentary Beauty Is Embarrassing — was born and raised in Chattanooga, and despite the numerous accolades and attention he has received, he has never forgotten where he came from.

Wayne White currently is enjoying recognition in the modern art world for his masterfully created word paintings and for his elaborate, astounding installations, fantastic, awe-inspiring spaces with giant puppets and incredible sculptures. He built his reputation as a world-class illustrator, animator, set designer, puppeteer and art director but he is a Chattanooga boy at heart, with a desire to both inspire and honor the city that helped to shape him into the artist he is today.

White says "Wayne-O-Rama is a wonderland, straight from my imagination to yours. It is a funhouse for all ages that tells the story of Chattanooga and the South. It's the Smithsonian Museum meets Goony Golf. It's a celebration of the culture that shaped me and a gift to my hometown. I will use giant puppets, large-scale dioramas, peep shows, paintings and animation to tell the story of the region from pre-history to the present." Over 300 artists from here and beyond have worked under White's direction transforming wood, Styrofoam and cardboard into a fabulously detailed celebration of hundreds of years of Chattanooga history.

"Wayne-O-Rama will be an inspiration for the young and old, reflecting not only the Southern experience but also reaching out to the whole world," says artist Wayne White. "It's a vision that welcomes everyone. My hometown is already a fascinating destination for many reasons, and I'm proud to include Wayne-O-Rama as one of Chattanooga's many glories."

---
The Shaking Ray Levi Society and Tenn Arts present:
MAINx24: Wayne-O-Rama Open House and Workshop

Saturday, December 3, 2016
Wayne-O-Rama
1800 Rossville Ave., #108
Chattanooga, TN 37408
Free (donations accepted)
Wayne-O-Rama is right in the middle of MAINx24, Chattanooga's 24-hour festival! Look for the Wayne-O-Rama float in the parade (10:30 am), bring your children to the puppet workshop led by local artist Melissa Hoesman (1:00 pm), enjoy the sounds of Jazzanooga students in our lobby (3 - 5 pm) or just drop by between 11 am and 6 pm to experience Wayne-O-Rama as part of our Open House!
---
Jeff Crompton Trio
Robert Fleitz: Toy Piano Virtuoso

Friday, December 16, 2016, 8 pm
Wayne-O-Rama
1800 Rossville Ave., #108
Chattanooga, TN 37408
$12 ($8 for students)


WAYNE-O-RAMA CONCERT SERIES PREMIERE EVENT!

This unique show features the dynamic sax/bass/drums jazz outfit Jeff Crompton Trio (Atlanta/Chattanooga) and the toy piano virtuoso Robert Fleitz (NYC).

No mere novelty, the toy piano is an instrument that has been used in compositions by noted 20th century composers John Cage and George Crumb, and Fleitz will demonstrate its versatility, playing selections by Pulitzer Prize-winner Julia Wolfe, Puerto Rican-born composer Angélica Negrón, Molly Joyce, Monica Pearce, Olivia Kieffer and Andrew Krahn, and will perform the world premiere of Jeff Crompton's "Sonatina for Toy Piano" at Wayne-O-Rama, Chattanooga's history funhouse designed by artist Wayne White.

Robert Fleitz, whose playing has been called "mesmerizing" by the New York Times, is a Manhattan-based, Juilliard-trained pianist and composer who is the co-founder and artistic director of the Florida International Toy Piano Festival, which celebrates innovative performers and composers from around the globe through the toy piano. Fleitz is a frequent performer of other alternative keyboard instruments including harpsichord, harmonium, melodica and Hammond organ, and he has commissioned and premiered over fifty solo, chamber, and music-theater works in the past five years. He has worked with a number of notable figures in contemporary music including Esa-Pekka Salonen, John Zorn, Tadaaki Otaka and Jeffrey Milarsky, and as a composer, Robert seeks to explore the fringes of human interaction through emotionally lucid music tailored specifically to the performer for whom he is writing.

Saxophonist Jeff Crompton is an Atlanta native who has played his off-center, jazz-based music around the Southeast for 30 years. Among his musical associates have been pianist/composer Michael J. Smith, The Bazooka Ants, Darryl Rhoades, Roger Ruzow, The 4th Ward Afro-Klezmer Orchestra and various groups of his own. He is a founding member of the Edgewood Saxophone Trio, whose album Snake Nation made several "best of the year" lists in Atlanta, and leads Three Way Mirror, with the unusual instrumentation of saxophone, tuba and congas. The new album Magic Word from the Jeff Crompton Trio features Chattanooga musicians Bob Stagner (Shaking Ray Levis) and Evan Lipson (Normal Love, Wrest, Roughhousing, Psychotic Quartet).
Facebook event